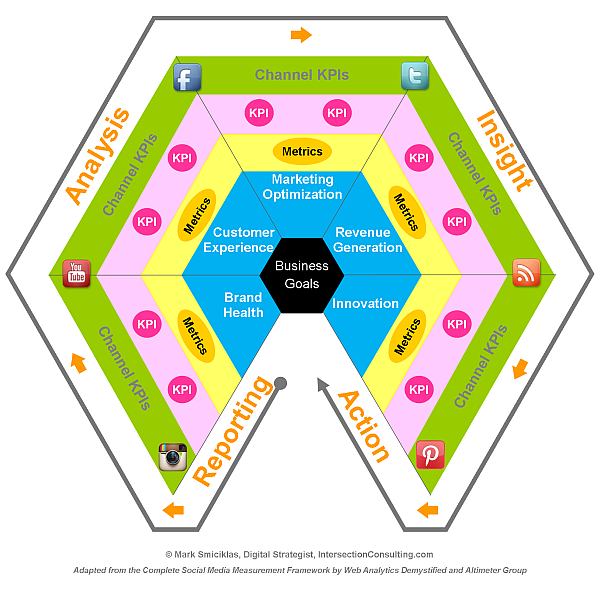 Business Goals – In order for data extracted from a measurement initiative to be useful or effective it needs to connect back to the business objectives of your organization.
These will vary by company and situation – but there are a handful of goals that are universal to most businesses or non profits.
These include optimizing marketing programs, generating revenue , cutting costs, building brand equity and developing new ideas, products or services. For more information about the goals that I've included in this model check out the Social Media Measurement Compass in a report about social media analytics by the Altimeter Group.
Metrics – These are the general measurement categories for each objective. For example, under marketing optimization, one common metric would be Awareness.
Key Performance Indicators (KPIs) – For each metric, list relevant performance indicators. For example, for the Awareness metric above one KPI could be Reach.
Channel KPIs – Because each social media channel uses different analytics to measure performance it's important to identify which unique KPIs will be measured for each platform. Continuing with the example above, channel KPIs for Awareness >> Reach could be as follows:
Facebook – Total reach.
Twitter – Potential reach, effective reach.
Blog – Page views
Youtube – Views